Evaluations
We understand that participants and stakeholders in program evaluation may be hesitant to participate in evaluations. Through our 12 years of experience conducting program evaluations for a variety of government agencies and nonprofits on issues of health, education, and training, GEARS has perfected an approach that facilitates a positive experience for both our clients and their stakeholders.
Dr. Deborah Brome, co-founder of GEARS, created the GEARS Trusted Advisor™ approach for evaluation and applied research based upon a combination of participatory research methods and her scholarly training and experience as a tenured university professor of 20 years. Our evaluation staff work closely with our clients and their stakeholders (e.g., grantees, partners, etc.) to ensure that each phase of the evaluation or research project is designed with scientific integrity, cultural relevance and efficient technology. We help our clients understand the evaluation process, use the results to enhance program or organizational performance, and create monitoring strategies that support sustained growth and relevance.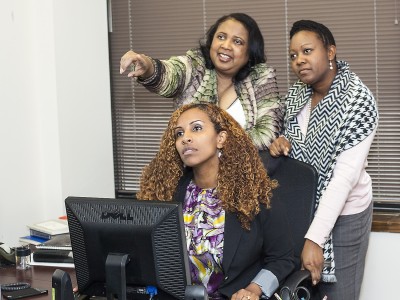 Applied Research
GEARS works collaboratively with clients to design and implement studies aimed at applying research results to solve practical problems. Our research and evaluation program directors are trained in clinical psychology, social psychology, and education. We have a particular focus on addressing problems related to the behavioral, social, and psychological dimensions of health and health interventions.
Gender
GEARS offers expertise in evaluating gender-responsive programs and initiatives. Through more than a decade of conducting research on women and girls, our niche knowledge and experience can be leveraged to provide in depth and accurate insight into how best to obtain, interpret and report data on women and girls. As we continue to develop depth in this area, we have provided this expertise across a diverse array of programs ranging from chronic and infectious disease, youth development, and participation in sports.
Cultural Responsiveness
GEARS always considers the roles of culture and context in analyzing a research or organizational problem and while conceptualizing an evaluation or applied research project. Consequently, GEARS systematically integrates cultural principles in all phases of evaluation and research design, from selecting research methods and protocols to reporting research findings. The Ethnic Validity Model, developed by GEARS Executive Vice President Dr. Deborah Brome and her colleagues, provides the conceptual foundation for the GEARS cultural research protocol. It also provides a basis for investigating and analyzing the cultural characteristics of systems and of how these characteristics impact outcomes.